6 Reasons Why the Grand Junction Area Could Be Right for Your Business
There's a lot to consider when deciding if relocating your business is the right move. From finding ways to reduce overall costs to anticipating future expansion needs, it's not a decision to be taken lightly. As you weigh your options, here are six reasons why Grand Junction and surrounding areas, Fruita and Palisade, could be right for you. 
1. The Riverfront at Las Colonias Could Be Your New Headquarters
Located minutes from Downtown Grand Junction, the Riverfront at Las Colonias is among the most notable opportunity zones within the region. The area includes a 140-acre mixed-use park along the Colorado River in Downtown Grand Junction with a 5,000-seat amphitheater, a botanical garden, a river park with two standing waves, a boat ramp, multiple ponds, and soon a zipline across the Colorado River. 
Fifteen acres within the park are designated as a commercial business park. The Riverfront at Las Colonias is geared toward outdoor recreation and tech-related businesses, with several shovel-ready sites available for lease. This opportunity zone is already home to several outdoor recreation-based companies, including Bonsai Design and Rocky Mounts.  
2. Grand Junction Contains Several Colorado Opportunity Zones
An Opportunity Zone is a designated community where certain new investments may be eligible for preferential tax treatment. These designated zones spur economic development and job creation by providing tax benefits to investors.  
The Colorado Opportunity Zone Program encourages long-term private investments within these designated areas by giving investors tax incentives for investing in real estate projects and operating businesses in the area. Investors can receive tax incentives through deferrals, reductions, and possible elimination of certain federal capital gains taxes.  
There are currently seven Grand Junction Opportunity Zones, including most of central Grand Junction, the new downtown river district, and near Powderhorn Mountain Resort on the Grand Mesa.  
3. You May Be Eligible for the Rural Jump-Start (RJS) Program 
Among the available incentives to help new and expanding businesses grow and succeed, the Rural Jump-Start Program allows qualifying companies to receive significant tax breaks and cash grants for up to 8 years.  
This program is focused on startups, new divisions, new joint ventures, or otherwise new businesses in the State of Colorado. Qualifying businesses receive a tax holiday with no state income tax, state sales tax and use tax, county personal property tax, and state income tax for new hires.   
The Grand Junction area is a state leader in the RJS program and has seen 25 businesses approved for the program to date. Could you be next? 
4. Grand Junction Is a Work-Ready Community
In addition to attractive and affordable real estate, Mesa County is a nationally recognized work-ready community. We have the workforce needed to help you hit the ground running and efficiently scale your business. 
We're home to top talent and skill development through Colorado Mesa University and Western Colorado Community College. Plus, through the Mesa County Workforce Center, our community is committed to connecting businesses with qualified talent to help you succeed.  Our test takers score 13% higher than the national average on the nationally recognized, evidence-based, work-ready assessment: The National Career Readiness Certificate (NCRC). 
This means that we have qualified applicants and a skilled labor force ready to join your team! 
5.
It's A Place You Can Truly Live, Work, Play
In the Grand Junction area, we value work-life balance. We understand that life's greatest pleasures are shared among family and friends.  
Whether you're into mountain biking, hiking, rafting, or just finding uninterrupted scenery, there are plenty of opportunities to get outside and enjoy up to 260 days of sunshine. Plus, Downtown Grand Junction is a certified creative district, and the Amphitheatre at Las Colonias is responsible for bringing top entertainment directly into our community. So, you won't have to travel far to see your favorite artists (yes, even Snoop Dog and Bob Dylan). 
With access to trails, outdoor recreation, wine country, festivals, and concerts, there's always something to do here! 
6. We Offer a Supportive Network
You join a collaborative business ecosystem when you bring your business to the Grand Junction area. From our public partners to the private sector, we are a community invested in creating opportunity and success today and for many years to come. We are committed to innovation through collaboration.  
And at the Grand Junction Economic Partnership, we are here to guide you every step of the way by providing the right resources and the right connections. We are your gateway to success and the first point of contact as you make plans to bring your business to Grand Junction and explore your new home.  
For more information on opportunity zones, available incentives, please contact Steve Jozefczyk at steve@gjep.org.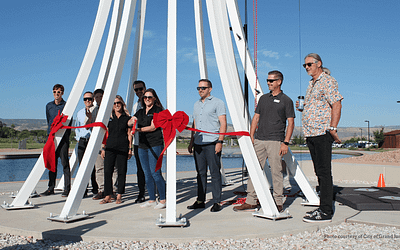 Bonsai Design and the City of Grand Junction celebrate the opening of a new zipline feature at Las Colonias Park, celebrating the riverfront's transformative history.