Spartan Drill Tools Accepted Into Rural Jump Start Program with Expansion and New Product Line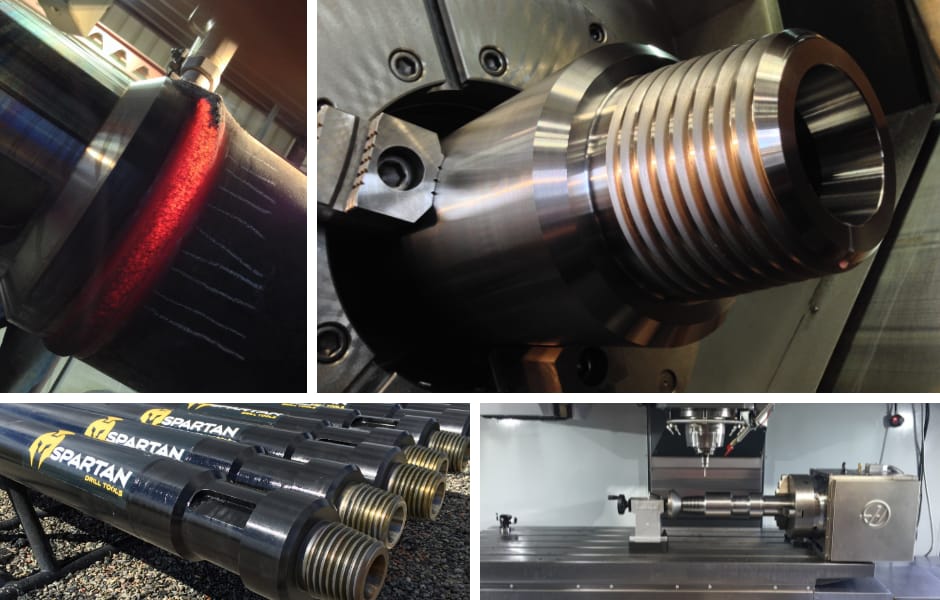 Grand Junction, Colorado (June 27, 2023) — 
The Grand Junction Economic Partnership (GJEP) has announced today that Fruita-based company, Spartan Drill Tools, was approved for the Rural Jump Start Program through the Economic Development Commission (EDC) as part of its business expansion into Grand Junction with a new product line.
As a long-standing contributor to Mesa County's economy, Spartan Drill Tools is one of North America's most well-known drill tool manufacturing companies. It produces various drill pipes and tooling products for the mining and water well industries.
In 2023, Spartan Drill Tools announced expansion plans with a new manufacturing division in Grand Junction in addition to their existing facility in Fruita. Through their expansion, they will be utilizing innovative processes new to Colorado with the purchase of a $1.4 million friction welder supporting the manufacture of its new small-diameter drill pipes and tooling. Additionally, the company will lease a 17,000-square-foot business facility at 2494 Industrial Blvd in Grand Junction.
The company will initially hire 3 to 4 new employees, with over 26 new jobs anticipated from 2024 –2027 at an average wage between $46,000 and $57,0000. With its expansion, Spartan Drill Tools has been working with the Grand Junction Economic Partnership to identify available incentive opportunities, including eligibility for the Rural Jump Start (RJS) Program.
The Rural Jump Start Program, an initiative designed to foster economic development and create new job opportunities in rural communities, provides eligible companies with lucrative tax incentives, cash grants, and workforce development opportunities. The program originated in Mesa County in 2015 and was spearheaded by Colorado Mesa University (CMU), local business leaders, and economic development partners.
Through the program, Spartan Drill Tools is now eligible to receive significant tax breaks and cash grants for up to 8 years. This includes eligibility to receive cash grant funding up to $20,000 to help offset startup costs for its new business division and up to $2,500 per new hire. Spartan Drill Tools will also collaborate with Colorado Mesa University faculty to access its talent pipeline for internships, recent graduates, and alumni.
"For over 8 years, the team at Spartan Drill Tools and I have been working to make the leap into these other markets and to build this reality. Our motto has always been "Achieve More," with this new facility, we plan to continue to help our customers, employees, and the communities they serve to do just that," stated Kurt Anderson, President of Spartan Drill Tools.
To be eligible for the program, businesses must be new to the state of Colorado or create a new division with a minimum of five new jobs, must add to the economic base and export goods or services outside of Mesa County, and not be in direct competition with another business in the area. Spartan Drills Tools marks the 27th Mesa County company approved into the program with the assistance of the Grand Junction Economic Partnership.
"The inclusion of Spartan Drill Tools into the Rural Jump Start Program is a testament to their exceptional commitment to innovation and growth. Spartan Drill Tools has been a strong primary employer in the Fruita area. We are excited to witness their growth and the impact their expansion into the Grand Junction area will have on Mesa County's economy and job growth," stated Curtis Englehart, Executive Director of the Grand Junction Economic Partnership.
Spartan Drill Tools anticipates its new division opening in Grand Junction by September 2023. For more information on Spartan Drill Tools, please visit www.spartandrilltools.com. 
PRESS CONTACT:
Selena Sanchez | Director of Marketing & Communications
selena@gjep.org | 970-245-4332 ext. 6
Subscribe To Our Newsletter
Stay up to date on the latest business development news, resources, and opportunities!
Sky Peak Technologies, a Grand Junction- based tech company, continues to grow through the support of the Rural Jump Start Program and the State Trade Expansion Program Grant.