Sky Peak Technologies Expanding Horizons and Innovations in Grand Junction
 August 21, 2023 — (Grand Junction, CO)
Sky Peak Technologies announces that in Q2 2023, they have added two new engineers to their team, bringing its total staff count to eight. "I am very excited to announce not only the growth of our product development team, but also the hiring of our first CMU engineering student, Blake Rhyner," says, Cat Coughran-McIntosh, CEO and co-founder of Sky Peak Technologies. "What makes Blake's hire so special are the state programs that made this possible, including the Rural Jump Start (RJS) Program and the CMU/CU Boulder Engineering Partnership."
Sky Peak Technologies moved its headquarters and main operations to Grand Junction, Colorado in June 2021, and worked with Steve Jozefczyk, Deputy Director of the Grand Junction Economic Partnership, to apply for the Rural Jump Start Program. "We also met with Tom Benton from Colorado Mesa University to establish the required relationship with an Institute of Higher Education," says Sky Peak Technologies CTO and co-founder, Don McIntosh. "Then, as our engineering needs grew, we networked with the CMU placement office and attended university-sponsored events to meet graduating students. We discovered a lot of talent, and ultimately, Blake fit our company and our needs the best."
As an RJS grantee, Sky Peak Technologies is incentivized to hire Colorado talent. In 2023, the company hired two Colorado employees, both CMU graduates, bringing its Colorado headcount to six.
"The Rural Jump Start program has been a great success in Mesa County and CMU was instrumental in helping to launch it in Colorado," said Steve Jozefczyk, Deputy Director of GJEP. "In addition to the lucrative tax credits and grant benefits, the RJS program establishes a pipeline between CMU students and our local businesses, providing the support needed for their workforce needs. With Sky Peak Technologies' inclusion into the RJS program, CMU students now have a direct connection to an innovative tech company with great potential for scaling. We are excited to witness their growth and the impact they will have on Mesa County's economy."

Global Problem. International Demand.
Sky Peak Technologies' groundbreaking product, CORASM Mobile Edge (ME), is an on-device, smart content-shaping solution that provides mobile network operators (MNOs) and mobile virtual network operators (MVNOs) an affordable way to manage the growing onslaught of streaming video on mobile devices. This new solution attacks the increasing consumption of over-the-top streaming content at both the device and network levels.
"In just the last few years, the demand for streaming video worldwide has exploded and is predicted to increase drastically year over year. The cost of using premium cellular bandwidth to deliver streaming video services to customers is an increasing burden to MVNOs and regional/rural MNOs," says Coughran-McIntosh. CORA ME elegantly shapes data-intensive streaming video and right sizes it for the device requesting it. CORA ME smart shaping technology delivers a great user experience with considerably less data; thus, reducing the bandwidth and energy resources needed to keep pace with this voracious consumption of streaming video.
This increasing demand for data-intensive content is a worldwide issue. There are roughly 8.3 billion connected smart devices on the planet. Each of them capable of consuming data-intensive content at the push of a button. This is true in all parts of the world. What is not always equitable are the networks and data plans available to consumers. With up to an 88% reduction in resources needed to deliver data-intensive content to mobile devices, the core value proposition of CORA ME is to enable operators to create happier subscribers by giving them more of the streaming video content they crave while at the same time freeing up the network for other operations and creating a more profitable environment for operators.
"We have a value proposition for Operators all over the world whether they are on a new 5G network or an older legacy network like 2G/3G, and we have been building a pipeline of customers on every continent except (Antarctica which currently does not have any Operators.)," stated Coughran-McIntosh.
In Q2 of this year, Sky Peak Technologies was awarded a State Trade Expansion Program (STEP) Grant to help expand its international business. The grant proceeds were used to attend MVNO World Congress in Amsterdam. "Being able to attend this show put us face-to-face with current and new customers, resulting in several new contracts and proof of concept studies. It also allowed us to join international conversations about mobile communications policies and opportunities for our technology to help solve them," says Coughran-McIntosh.
The STEP Grant helps small businesses expand internationally by funding international business development activities. This grant aims to offset the cost of expanding internationally for small businesses. The U.S. Small Business Administration funds part of this program, and the Global Business Development (GBD) division of OEDIT administers the grant to businesses.
"It is truly amazing to build a new tech venture in the State of Colorado and even more so to do it in Grand Junction. Once we moved Sky Peak Technologies to the western slope, we had more access to things like capital, grants, mentoring, and support than we did on the front range," says Coughran-McIntosh, who has previously lived and built businesses in Mesa County before moving east for other opportunities. "It was great to come home and find the startup community in Grand Junction and western Colorado was stronger than ever!"
Sky Peak Technologies' current major investors are all from Western Colorado and include the Greater Colorado Venture Fund and other private investors. Sky Peak Technologies believes everyone everywhere should have access to data-intensive content regardless of where they live, their economic status, or other circumstances. That is why they develop and distribute bold and novel technologies that enable all people to share ideas and knowledge, making our world more culturally connected and educated while protecting the amazing resources of our planet.
Learn more at: skypeaktechnologies.com.
For more information on relocating or expanding your business into the Grand Junction area and exploring qualifying incentives, please contact GJEP's Deputy Director, Steve Jozefczyk at steve@gjep.org.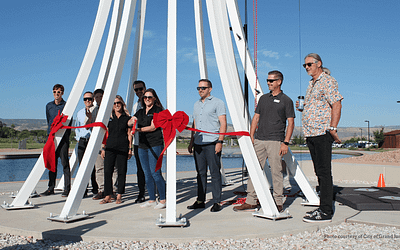 Bonsai Design and the City of Grand Junction celebrate the opening of a new zipline feature at Las Colonias Park, celebrating the riverfront's transformative history.