You might be surprised of how much you can pack into a 50-mile radius.
From luxurious subdivisions with expansive views and golf-course access, to picturesque Craftsman-era homes within walking distance of shops and restaurants, to rural farms that have kept some of that untamed spirit of the Wild West.
The communities that make up Colorado's Grand Valley are many and varied, but there are a few values shared by its residents. We love our children – of the human and furry kind. We love to spend time outdoors – in the backyard with our neighbors, enjoying a craft brew on a patio, or exploring the great wilderness all around us. And we embrace active minds and bodies – participating in athletics, enjoying festivals and regularly volunteering to keep our communities great.
*
"My favorite part of living and working in the Grand Valley are the many great people that I am able to interact with each day.  The valley has a way of attracting some of the most passionate, caring and energetic people. And together, we strive to create a strong and vibrant community for all of us to enjoy."
– Clay Tufly, Regional President, Alpine Bank
LIVE IN GRAND JUNCTION
The most populated of the Grand Valley communities is the City of Grand Junction, bustling with commerce, industry, culture and recreation. The downtown core offers the best in urban living with an array of Victorian- and Craftsman style fixer-uppers and renovated gems at a fraction of the cost of bigger cities.
There's a mall, a convention center, a performing arts center, an array of convenient, big-box stores, and several restaurants, boutiques, art galleries and public parks. For video tours of Grand Junction click here, or visit the City of Grand Junction website here.
GJ SNAPSHOT
Population: 58,867
Media Age: 37.3
Avg. Household Size: 2.28
Median Home Price: $187,900
Home Appreciation Last 12 Months:
5.6%
Avg. Commute Time: 15.96 minutes
Hashtag: #shareGJ
GJ RANKINGS
5th Best Small City in Colorado
(Denver Business Journal, 2015)
Top 10 Rising Travel Destination
(American Express Travel, 2014)
One of America's Coolest Desert Towns
(Travel + Leisure, 2015)
LIVE IN FRUITA
Once a rural farm community, Fruita has blossomed as an eclectic city that caters to mountain bikers and young professionals craving an active cultural scene without big costs or pretenses.
Fruita's downtown offers residents small Craftsman-style homes intermingled with new developments within walking – or biking – distance of boutiques and restaurants. On the outskirts, enjoy more spacious abodes, either farm homes or luxurious subdivisions.  Visit the City of Fruita website.
FRUITA SNAPSHOT
Population: 12,444
Media Age: 35.1
Avg. Household Size: 2.62
Median Home Price: $189,400
Home Appreciation Last 12 Months:
5.40%
Avg. Commute Time: 25.72 minutes
Hashtag: #GoFruita
FRUITA RANKINGS
Colorado's Top Large Adventure Town
(Elevation Outdoors Magazine, 2015)
5th Safest Place in America
(Movoto, 2015)
A Best Place for Young Families
(Nerdwallet, 2014)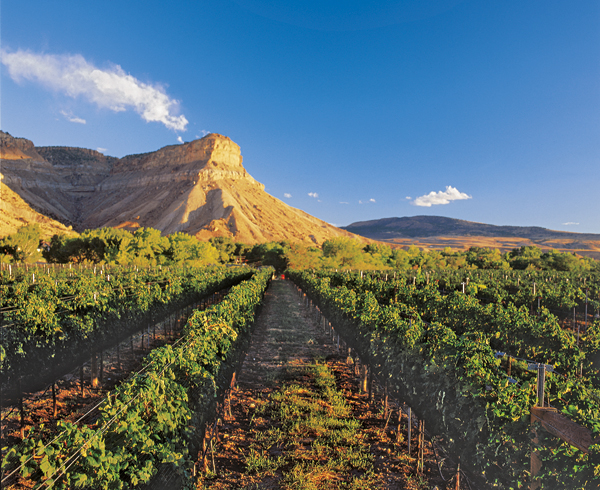 LIVE IN PALISADE
Smaller than the above named cities, Palisade is a quaint town on the east side of the Valley, known for its many orchards and vineyards that have a stunning view of Mt. Garfield. Palisade has a good mix of spacious Victorians from a bygone era intermingled with newer, more affordable family homes.

Activities in this serene part of the Valley center around Riverbend Park, where lots of family-friendly activities await, and the many festivals that celebrate the town's produce, such as peaches and lavender. Visit the Town of Palisade website.
PALISADE SNAPSHOT
Population: 2,670
Media Age: 46.5
Avg. Household Size: 2.06
Median Home Price: $184,200
Home Appreciation Last 12 Months:
5.80%
Avg. Commute Time: 26.3 minutes
PHOTO CREDITS for this page
Fruita: Tyler Logan/City of Fruita