July 19, 2017 – One of the best parts about living in Fruita is the ability to work and play here. We have a saying in town that "our visitors feel like locals and our locals play like visitors". When you come to Fruita, I guarantee that you'll feel like part of the community right away. Because of this, we're launching a new marketing campaign called "Play like a Local".
Whether or not you live in the area, here are a few things we suggest putting on your Fruita bucket list:
  Play Outdoors
Fruita offers some of the best outdoor recreation around and has something for everyone. Fruita is considered a world-class mountain biking destination with the perfect combination of terrain to challenge riders of all abilities. Take a leisurely ride on the 18 Road Trails, or hit the Kokopelli Trail for more technical challenges.
But it doesn't stop at mountain biking. The Colorado River carves through Grand Valley canyons right into Fruita, making it a great place to raft or stand up paddleboard. Whether you're looking for whitewater rafting or an easy float down the river, Fruita has you covered.
Fruita has established itself as a premier hiking destination in Colorado. With amazing views and hikes of varying abilities, it's a great place to bring people of all ages. Plan a hike through the Colorado National Monument or the McInnis Canyons Conservation Area to take in the gorgeous scenery and local wildlife.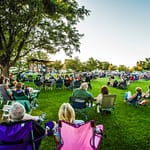 Weekly Summer Events
Fruita is full of events during the summers that are free for all to attend. The Rim Rock Rodeo gives a taste our western roots and takes place every Tuesday night, 4:30-9:30pm. See local cowboys and cowgirls compete in events like bull riding, roping, barrel racing, mutton bustin' and more.
The City of Fruita also hosts free Thursday Night Concerts throughout the summer. Bring your chair, blanket and family to enjoy fun live music with Fruita locals.
Explore the Businesses
We're lucky to have some great local businesses in Fruita that each has something unique to offer. Whether you're looking for food and beer, coffee, books or clothes, we've got you covered. Check out the Fruita Chamber of Commerce for a complete list of businesses in our area.
We encourage you to take a break from your busy lives, and take a moment to appreciate the amazing things that our valley has to offer. Now get out there and Go Fruita!
---

About the Author
The City of Fruita is a key sponsor of the "Grand Day CO"  project and the city is featured in both videos. Fruita is located in the Grand Valley and serves about 13,000 residents, plus many visitors, by providing high quality services that enhance the community.