Economic Diversity: Using the Power of Data to Tell Our Story
By: Curtis Englehart | Executive Director, Grand Junction Economic Partnership
Originally published in the Grand Junction Daily Sentinel 8.20.2023
Many years ago, our community leaders strategized and identified priorities to diversify Mesa County's economy.  This took thoughtful leadership, forward-thinking, and the collective effort of our public and private partners. Because of these tremendous efforts, our economy is now thriving and resilient.  We have seen increased activity across most of our industries.  Our unemployment rate continues to trend downward, while our labor force continues to climb.
These are all great signs to see, however, how do we measure if our local economy truly is diversified?  Let's take a deeper dive into some of the data GJEP evaluates when determining the diversity and overall health of our community.
Location Quotients (LQ):  Location quotients are used to compare the concentration of a particular industry in a local area (Mesa County) to the concentration of that industry at the state level. An LQ greater than 1 indicates an industry is overrepresented in the local area.
At GJEP, we look at LQs on a regular basis, providing an accurate snapshot of the diversification of our community.  What we want to see across our industries is an LQ between 0.7-1.4.  In our opinion, this is a healthy range that demonstrates diversification. If you have one or two industries with extremely high LQs and the rest with very low LQs, you create a scenario where you have all your eggs in one or two industry baskets.  This scenario demonstrates an economy that is extremely reliant on one or two industries.  If those industries were hit hard by an economic downturn, all other industries would also suffer, making the economy susceptible to long-term recessions.
Mesa County experienced this during the great recession.  Our energy industry was by far our largest industry with an LQ that creeped into double digits. When the bottom fell out of the Oil and Gas industry, Mesa County fell into a deep recession that took years to recover from.  We lost over 14,000 people in our labor force during this time as there weren't any jobs available for this workforce to fill.
The Oil and Gas industry is vital for our economy and supplies high-paying jobs that strengthen our economic foundation. However, the great recession demonstrated the danger of relying too heavily on one industry and emphasized that a diversified economy is a resilient economy.
As we flash forward to 2023, our LQ data shows a highly diversified economy as 71% of Mesa County's major industries fall within the 0.7-1.4 range.  We have also seen 5,201 new jobs infused into our economy since 2016.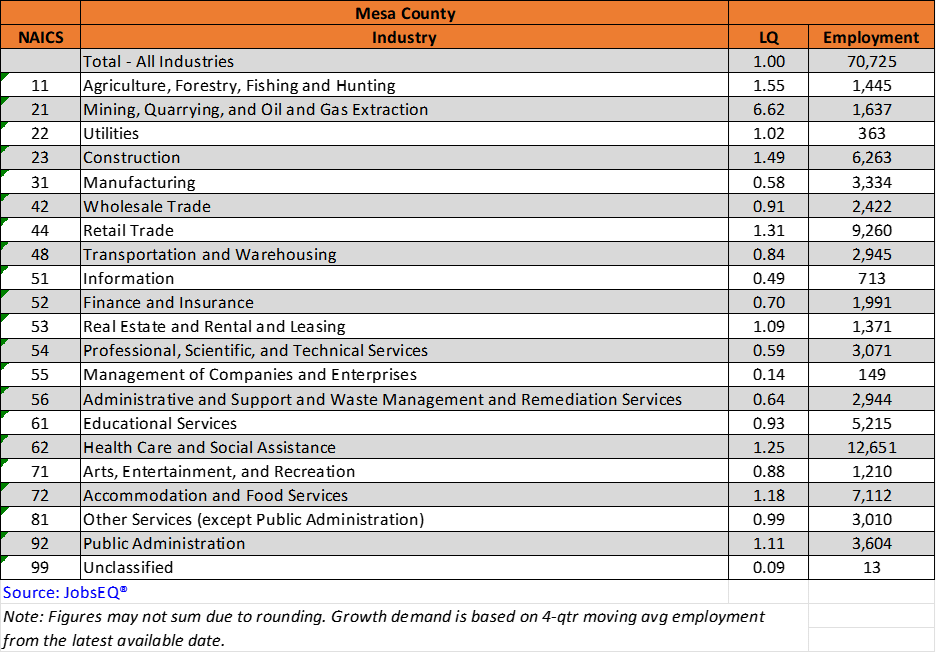 Unemployment Rates: Unemployment rates provide insights into the health of the local labor market. A lower unemployment rate suggests a more diversified and stronger economy, as it indicates that a variety of industries are providing job opportunities.  Historically, Mesa County's unemployment rates were consistently higher than the national average.  That has not been the case since we have come out of the COVID-19 Pandemic.  Month after month, our unemployment rate has outpaced the national average.
In economic development, businesses often consider local unemployment rates when making decisions about relocation, expansion, hiring, or downsizing. Low unemployment rates may indicate a strong labor pool, while higher rates might lead to more cautious hiring practices.
Labor Force: A community's labor force is a crucial component to the local economy and understanding its dynamics is essential for gauging the community's overall health and well-being.
The labor force encompasses all individuals either employed or actively seeking employment. Mesa County currently has a very robust and skilled workforce. The presence of Colorado Mesa University and CMU Tech has contributed significantly to our labor force as they've developed a skilled talent pipeline of qualified workers entering the market.
Another reason for our growing labor force is simply more opportunities.  A diversified economy offers more job opportunities and higher wages that will both attract and retain a skilled workforce. Mesa County has seen gradual increases in our labor force year after year. We can now boast a dynamic and healthy labor force, which is a far cry from where we were during the mass exodus of 14,000 workers during the great recession.
Coming out of the COVID-19 Pandemic, Mesa County was the first county in the state to recover all our pre-pandemic jobs, and we currently have the lowest number of job openings in the state.  That tells us that the mass number of job openings coming out of the pandemic are being filled at a much higher level than the rest of the state.
Relying on accurate and comprehensive data to assess the state of our economy is not just prudent, it is essential. Data-driven insights provide us with an objective and reliable lens through which we can navigate the intricate web of economic dynamics, understand trends, anticipate challenges, and seize opportunities. By harnessing the power of data, we cannot only measure if we are winning or losing, but also equip ourselves with the knowledge needed to make informed decisions, design effective policies, and foster sustainable growth.
Interested in partnering with GJEP or have questions about our organization? Email curtis@gjep.org
Sky Peak Technologies, a Grand Junction- based tech company, continues to grow through the support of the Rural Jump Start Program and the State Trade Expansion Program Grant.