For all media inquiries, please contact: Selena Sanchez, phone via (970) 245 4332 ext.6 or email
selena@gjep.org
Grand Junction Economic Partnership unveils captivating video highlighting Riverfront at Las Colonias as a Colorado Opportunity Zone
read more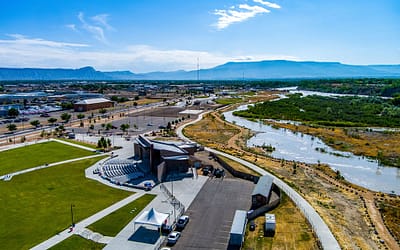 The U.S. Office of Legacy Management and EPA recognize Grand Junction's Riverfront at Las Colonias Park in its 2023 Phoenix Awards. The Phoenix Award is given in recognition for the redevelopment and restoration of previously contaminated property.
read more
Discover one-of-a-kind modern office space in the heart of Downtown Grand Junction at 734 Main Street. This property has several options available for businesses seeking to operate in the region and includes great access to nearby amenities.
read more
The Grand Junction Economic Partnership has announced today that Fruita-based company, Spartan Drill Tools, was approved for the Rural Jump Start Program through the Economic Development Commission (EDC) as part of its business expansion into Grand Junction with a new product line.
read more