Colorado's Grand Junction Area
Build Your Business Where Life Is Grand
Discover Your Sweet Spot For Business Success
Welcome to Colorado's Grand Junction area – where business meets adventure. 
The Grand Junction area is the largest metropolitan region in western Colorado, with the amenities and infrastructure companies need to operate globally. Situated halfway between Denver and Salt Lake City, the Grand Junction area is easily accessible by air, highway, and WiFi.
Comprised of Grand Junction, Fruita, and Palisade, the region is bustling with opportunity, community, and a work ethic that mirrors the spirit of the men and women who settled this valley generations ago. The region is known for its stunning natural beauty with towering red rock formations, the mighty Colorado River and world-renowned biking and hiking trails. And it's also a hub for technology and innovation with cutting-edge research and technology facilities, advanced manufacturing, robust health care, and a thriving agricultural sector.
Grand Junction is home to stunning natural landscapes and seven Colorado Opportunity Zones, making it the perfect place to discover shovel-ready sites and move-in-ready locations.
Mesa County is the only ACT Certified Work Ready Community in Colorado and has a robust talent pipeline through Colorado Mesa University and Western Colorado Community College.
A love for the great outdoors unites our community, from world-class mountain bike trails to river rafting and hiking. Plus, our school district…. and comparatively affordable housing makes the Grand Junction area a perfect place for families.
We're in the business of helping you succeed. Enjoy a personalized approach to business incentives and financing options, real estate portfolios, and relocation resources.
Making the move is a big deal! We'll help you get connected and explore this community together.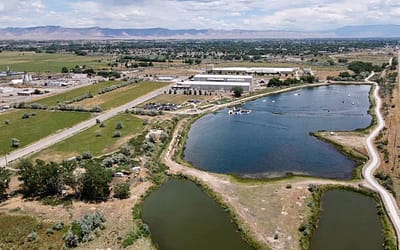 The Fruita Business Park contains 17 shovel-ready parcels that may be purchased individually or as a conglomerate. The property is zoned for light industrial and allows for a mix of permitted and conditional use, including business residences, medical offices,...
Tech-minded manufacturers are answering Colorado's call. With contracts from Lockheed Martin, payrolls over $18 million, and Aerospace/Electronics Manufacturer of the Year accolades, the aerospace and advanced manufacturing sectors are thriving.
Technology & Entrepreneurship
The Grand Junction area offers an environment that provides the foundation for tech entrepreneurs, leaders in cyber security, software developers, telecommunication firms, and creatives to thrive. We embrace cleantech and ag-tech startups that are eager to make the planet a better place.
Health & Medical Care
With five hospitals, numerous medical facilities, and homegrown talent through Colorado Mesa Univerity, the Grand Junction area is a recognized healthcare hub for the region, serving half a million residents from Western Colorado into Utah and Wyoming.
Energy & Renewables
Bountiful resources and plenty of sunshine are just a few reasons why major players in natural gas, cleantech, and renewables flock to the Grand Junction area. We're home to the first-ever coal/solar demonstration array and the basecamp for the Piceance Basin, one of the largest gas resources in the country.
Outdoor Recreation
A love for the great outdoors unites our industries and families. The region's diverse landscape, mild climate, and professional industry network create the perfect blend of testing ground and playground. There's something for everyone, from world-class mountain bike trails to river rafting and ski slopes.
Agribusiness
The Grand Junction area is famous for its rich agricultural history. Now we're making waves as Colorado's wine country and with our world-famous Palisade peaches. Our mild climate, skilled workforce, and low taxes continue to attract both large-scale and small producers, including wineries, craft breweries, farm-to-fork operations, and cattle ranches.
About Us
At the Grand Junction Economic Partnership (GJEP), we help businesses discover innovation and sustainable growth opportunities as they relocate or expand into the region.
Like the community that we reside in, we are bold and eager for change through innovation. We recruit and provide development opportunities to businesses in Grand Junction, Palisade, Fruita, and surrounding regions. As a private non-profit incorporated organization, we provide free business services and operate with the support of the community, investors, and economic development partners.